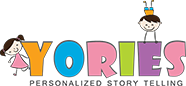 Personalized Storytelling Platform
Yories is a personalized storytelling platform that helps build your child's character.
Yories puts the power of a personalized, engaging story in the hand of parents. At Yories, we believe that personalized stories enable extremely relevant learning, help build and nurture child's character, and build a strong connection between parents and child.
We care deeply about how personalized stories shape the lives of children and the character of the society at large – and we think we can transform it for better…through Yories!
We are touched, moved and inspired by our vision and a possibility to make better tomorrow for today's children…and every other human being with whom we have shared our vision has felt the same.
Stay tuned, you will soon be able to order yories through this website.
Questions?
Write to us on hello (at) yories (dot) com
Or
Call us on +91 91067 36257
-x-x-x-x-
Yories is incubated at PDPU IIC and Supported by Government of Gujarat under Startup/Innovation Scheme.